MEDIA BITES
LOW BLOWS
TAKING A NAPSTER
We thought we'd give our opinion on this oh-so controversial topic since people still don't get it. First of all, any artist who sues Napster has no idea what the Internet is because if they did they'd know Napster is just basic software and no more than a speckle in the universe of the Internet. Without revealing too much, we'll just say there are hundreds of different and better ways to obtain MP3s than the Napster utility. Real MP3 traders are laughing at METALLICA and DR. DRE and any other artist who may think they have finally beaten the underground music community. We mean, we hope they don't think they've actually scared these "day traders" into throwing out their music-stuffed harddrives because for every Napster that goes down, 10 new, improved programs are being used.
We've attended enough of those lame "Music Industry and the Internet"/"Digital Distribution 2000" seminars to conclude that the music industry has no clue what the hell they're doing. For those who have never attended, imagine a room filled with people infatuated with the color black, talking to each other from across a table with their StarTacs, . These are the problem solvers of this Internet music crisis -- probably the same people who shell out $90/hour for a computer consultant to show them how to install Winamp. The only person we can think of that might get "it" is maybe Danny Goldberg of Artemis Records. Oh, what's the use. We'll just give one piece of advice to the Music Industry. Learn the Internet. Understand the Internet. Know it's potential good and forget about the bad, for now. Then make your business plan. Until then, we'll to continue to laugh at you.
BRITNEY SPEARS US
Britney Spears' new album, Oops... I Did Again, is on our current rotation alongside SARAH DOUGHER, JEFF BUCKLEY, PRIMAL SCREAM, LOOPER, SLEATER-KINNEY, THE DRAGONS, MATES OF STATE, NINA GORDON, PANTERA, DJ QUIK, PALOALTO, and VAS. Perhaps out of defiance towards Sleater-Kinney's comments last regarding their fans and BACKSTREET BOYS fans, we enjoy mixing our palet with AAA/College and AC/Mainstream. Actually, the album is good, much more satisfying than her debut which we pretty much discarded after we saw the song title "E-mail My Heart." Besides her obvious artistic growth (we're serious), the production is tighter and the music is more well-rounded. If you think this is a belated April Fool's joke, you're wrong. Vocally, she's no CHRISTINA AGUILERA (and she knows this) but she's much more fun to watch live (we've seen both several times over the last year.) Our only advice is that she take a break from music after all is said and done with this record.
HOWARD'S STERN
Recently after shedding a little light to the rumors that he may hang up the mic come this November when his CBS contract runs out, Howard went back into character with the much more interesting topic of his "Top Ten Women." The list included such obvious picks as Heather Locklear, Carmen Electra, and Pamela Anderson but threw us for a loop with choices like FAITH HILL, Anna Kournikova [we hear a pretty good (looking) tennis player], his lovely co-host Robin Quivers and his ex-wife Alison Stern. And, of course, we couldn't resist the taking part in this list-making:
? - One of the "Dames" in the band THE TOLEDO SHOW.
"" - Our ex-girlfriend...
Laetitia Casta
Vanessa Marcil
Natalie Portman
Janet Jackson
Katie Holmes
Rachel Leigh Cook
Drew Barrymore
Catherine McCormack
BUZZ ME IN...
TSAR - LA's glam band supreme... Buckcherry's fate redeemed.
PALOALTO - LA is having a battle with the UK as to how many Radiohead clones each can spit out. TRAVIS & MUSE vs. REMY ZERO & PALOALTO... Actually, we shouldn't bag. We like them all.
6/1 @ the Roxy, Hollywood - If there is any place you have to be on 6/1, it's at the Roxy. This lineup is the best club lineup of LA bands we've seen in a long, long time. Not only do you have the afforementioned PALOALTO (new album out on American Recordings; produced by Rick Rubin) but the last time we saw PHANTOM PLANET (good-looking, talented boy rock who will be MTV superstars sooner than they think unless Hollywood Records fucks it up like usual) and RILO KILEY (best unsigned pop/rock band in the universe) together was October 1999 at the Dragonfly, one of the top 10 club shows we saw last year out of around 300. And what about pop/rock princes THE PUSH KINGS? Trust us, trust us, trust us. You should be here.
Jurassic 5 - Mark your calendars for 6/6. Quality Control finally drops.
Sasha & Digweed - Here they come again. Rest well, everyone, rest well.
NIKKI vs. NICKY vs. ANIKA - NIKKI HASSMAN's on Sony, NICKY LOVE on DreamWorks, ANIKA PARIS on Edel America... and the winner is Hassman by a mile over Paris. And Nicky Love... what was DreamWorks thinking?
Electric Daisy Carnival - Every month we promise ourselves not to go the another big LA massive but how can we pass up this lineup? After this one we promise not to go massive again... well, until JuJuBeats.
Lawrence Fishburne - Just walked by the guy a few hours ago carrying groceries and flowers into our condo complex. Now that's something to buzz about...
Season finale of "Dawson's Creek" - Stop laughing. We met Michelle Williams at a local show just a few months ago and she was cooler than you think. The following week, we wanted to see what the big deal was. Now, we finally understand why the show is so popular. Katie Holmes... goodness gracious. "We don't watch TV... except for The WB
100 Girls - Interesting characters, thought-provoking storyline, and ... ok, it's the girls.
WHAT THE F..?!
Jessica Riddle - Key of A Minor (Hollywood) - Flat in more ways than one. One of the 5 worst albums of the year.
Nicky Love - Honey Love (DreamWorks) - Another album in the running for worst of the year. Due tentatively in August. That's right, DW, keep pushing this sucker until there's something there.
"House on Haunted Hill"
"Battlefield Earth" - If there is any movie critic that gives this farce a good review never trust that publication ever again.
"Freaks & Geeks" - If there are any network's out there than have any balls, please pick up this show since everyone knows NBC has none.

White Trash Wins Lotto
Shelby Lynne
Dimitri From Paris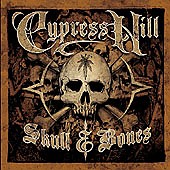 Cypress Hill - Skull & Bones (Columbia)
Order this CD