MUSIC NEWS:
<! --Enter News Blurb Here-- > JAMES BROWN, BJORK, THE EELS, BECK, SASHA & DIGWEED, AIMEE MANN, and News Bites...
NEW RELEASES: <! -Enter New Releases Here-- >
Toni Braxton, Eleven, deathray, Sheila Chandra, California Guitar Trio, Ian Brown, Jennyanykind, PJ Olsson, B.B. King, Don Henley, The Step Kings, Dimitr From Paris, Mya, Mary Mary, Strangefolk, Ian Brown, DJ Krush, Gladiator: Salvation Original Soundtrack, Jules Shear, One Minute Silence, New Bomb Turks. . . more in New Releases.
CONCERTS:
<! --Enter Concert Blurb Here-- > Weezer, The Toledo Show, Matchbox 20, DJ Dan, Andy Summers, Lucy Pearl, Candye Kane, The Jungle Brothers, Wolf Colonel, Special Goodness, Otto, Devics, Playboy Jazz Festival, Magnetic Fields, Kristin Hersh, Vic Chesnutt, Luna, Moral Crux, Average White Band, Primal Scream, The Ethers, Yeska, Capital!Capital, On, Elliott Smith, Richard Buckner, Third Grade Teacher, Roger Waters, Lou Barlow/Chokebore, Kara's Flowers, W.A.C.O., 'N Sync, Julia Fordham, Robyn Hitchcock, J. Mascis, Groovie Ghoulies, L7, The Eels, Ween, Modest Mouse/Califone, Jon Brion, Queensryche, The Jayhawks, Emmylou Harris, Juliana Hatfield, DJ Krush, Pink Martini, Lou Reed, Money Mark, Irving, The Handsome Family, Nina Simone, Jules Shear, OtherStarPeople, Secret Chiefs 3, Olive, Erin McKeown, Rilo Kiley, Electric Daisy Carnival, Bob Dylan, Alice Deejay . . . much more in Concerts.
ON THE TUBE:
<! --Enter TV Blurb Here-- > The Roots, Live, Q-Tip, No Doubt, Beck, The Grammy Awards Bjork, Vonda Shepard, Cafe Tacuba, Slipknot, Tori Amos, Aimee Mann, Macy Gray, Christina Aguilera, The Cure, Foo Fighters, Afro Cuban All Stars,
Go to RockOnTV for info. . .
ONLINE EVENTS:
<! --Enter Online Blurb Here-- > Magnetic Fields, Duran Duran, PJ Olsson, Momus, Elf Power, Of Montreal, Groove Armada, Radford, Reveille, Guano Apes, Supersuckers, Amber, Peter Murphy, Christina Aguilera, 400 Blows, Charlie Daniels, Shannon Curfman, Furious IV, The Murderers, Diana Ross & the Supremes, Buck, Ginny Owens, Guster, Josh Rouse, Clem Snide . . . more in Online Events.

Lou Reed
Sleater-Kinney
Elliott Smith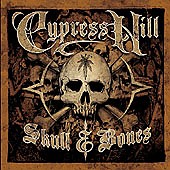 Cypress Hill - Skull & Bones (Columbia)
Order this CD