MUSIC NEWS
SHOWDATES/MP3.COM STATION

For a taste of what we're listening to check out the SHOWDATES station on MP3.com.
OLDER, WISER:
On 5/20 JOE COCKER celebrates his 56th birthday. Other birthdays include CHER (54) and BUSTA RHYMES (28).
RON ISLEY turns 59, CHICAGO'S Bill Champlin turns 53, and LEO SAYER turns 52 on 5/21. Also, actress Fairuza Balk turns 26.
MORRISSEY turns 41, JOHNNY GILL turns 34, CRASH TEST DUMMIES' Dan Roberts turns 33 on 5/22. Actress Alison Eastwood turns 28 today.
ROSEMARY CLOONEY turns 72, RADIOHEAD'S Phil Selway turns 33, MAXWELL turns 27, and JEWEL turns 26 on 5/23.
On 5/24, BOB DYLAN turns 59, PATTI LABELLE turns 56, PRISCILLA PRESLEY turns 55, ROSANNE CASH turns 45, HEAVY D turns 33, and THE BLACK CROWS' Rich Robinson turns 31.
LAURYN HILL turns 25 5/25. Also, comedienne MIKE MYERS who recently opened for Jon Brion doing a musical interpretation of his SNL "Sprockets" routine, turns 37.
PEGGY LEE turns 80, STEVIE NICKS turns 52, HANK WILLIAMS, JR. turns 51, LENNY KRAVITZ turns 36 on 5/26. Also, creator, webmaster, editor of SHOWDATES turns 25... we feel so old!
THE BLACK CROWS' Eddie Harsch turns 43, ALICE IN CHAINS' Sean Kinney turns 34, TLC'S Left Eye turns 29, and OUTKAST'S Dre turns 26.
ALLSTAR MAG:

JAMES BROWN Accused of Sexual Harrassment
THE EELS Cancel Bulk of June Tour
Jury Sides with DEAD KENNEDYS, finds Jello Biafra Liable
More allstar mag news at www.allstarmag.com.
LAUNCH:

DR. DRE'S Advice to Dynamite Hack
JOEY WARONKER Working Hard on Next R.E.M. Album
More Launch news at www.launch.com.
MTV ONLINE:

BLACK ROB Arrested on Weapon, Drug Charges
BJORK Wins Best Actress at Cannes
SANTANA Special To Air on FOX
SINEAD O'CONNOR Brings "Faith and Courage"
More MTV Online news at www.mtv.com.
FOR THE RECORD
BECK is putting the finishing touches on the remix for "Seven," the new single for DAVID BOWIE due sometime in June.
SPIRTITUALIZED is currently in the studio on the follow-up to '97's Ladies and Gentleman We Are Floating in Space. The album is being produced the band's only original member Jason Pierece and is tentatively set for a October release.
AIMEE MANN and MICHAEL PENN have formed United Musicans record label, a music group that will provide promotions, marketing, and publicity for its artists. Mann will release her new album, Bachelor #2, through the label and Penn hopes to do the same with his current release MP4. Look for a live album recorded from their recent Acoustic Vaudeville tour to be released soon.
ON THE ROAD AGAIN
SASHA & DIGWEED U.S. Tour:
5/26 - Twilo/New York, N.Y.
6/10 - Shelby County Building/Memphis, TN
6/23 - 1015 Folsom/San Francisco, CA
6/24 - Sportex/Edmonton, Alberta
6/28 - C2K/Las Vegas, NV
6/30 - Twilo/New York, NY
7/1 - Memorial Arena/Victora, B.C.
7/3 - The Palace/Los Angeles, CA
... in other tour news... MINISTRY has dropped off the Ozzfest 2000 tour. They'll be replaced by SOULFLY.
LIGHTS, CAMERA, ACTION!
BJORK has won the Best Actress award at the Cannes Film Festival for her work on the drama "Dancer in the Dark" which took home the coveted Golden Palm Award at the festival. The film hits U.S. theatres on 10/6 with the soundtrack hitting stores in September. Expect a new LP by Bjork in 2001.
NEWS BITES

TAKING A NAPSTER
We thought we'd give our opinion on this oh-so controversial topic since people still don't get it. First of all, any artist who sues Napster has no idea what the Internet is because if they did they'd know Napster is just basic software and no more than a speckle in the universe of the Internet. Without revealing too much, we'll just say there are hundreds of different and better ways to obtain MP3s than the Napster utility. Real MP3 traders are laughing at METALLICA and DR. DRE and any other artist who may think they have finally beaten the underground music community. We mean, we hope they don't think they've actually scared these "day traders" into throwing out their music-stuffed harddrives because for every Napster that goes down, 10 new, improved programs are being used.
We've attended enough of those lame "Music Industry and the Internet"/"Digital Distribution 2000" seminars to conclude that the music industry has no clue what the hell they're doing. For those who have never attended, imagine a room filled with people infatuated with the color black, talking to each other from across a table with their StarTacs, . These are the problem solvers of this Internet music crisis -- probably the same people who shell out $90/hour for a computer consultant to show them how to install Winamp. The only person we can think of that might get "it" is maybe Danny Goldberg of Artemis Records. Oh, what's the use. We'll just give one piece of advice to the Music Industry. Learn the Internet. Understand the Internet. Know it's potential good and forget about the bad, for now. Then make your business plan. Until then, we'll to continue to laugh at you.
BRITNEY SPEARS US
Britney Spears' new album, Oops... I Did Again, is on our current rotation alongside SARAH DOUGHER, JEFF BUCKLEY, PRIMAL SCREAM, LOOPER, SLEATER-KINNEY, THE DRAGONS, MATES OF STATE, NINA GORDON, PANTERA, DJ QUIK, PALOALTO, and VAS. Perhaps out of defiance towards Sleater-Kinney's comments last regarding their fans and BACKSTREET BOYS fans, we enjoy mixing our palet with AAA/College and AC/Mainstream. Actually, the album is good, much more satisfying than her debut which we pretty much discarded after we saw the song title "E-mail My Heart." Besides her obvious artistic growth (we're serious), the production is tighter and the music is more well-rounded. If you think this is a belated April Fool's joke, you're wrong. Vocally, she's no CHRISTINA AGUILERA (and she knows this) but she's much more fun to watch live (we've seen both several times over the last year.) Our only advice is that she take a break from music after all is said and done with this record. She should go into acting, choose her parts well (we suggest an ensemble piece in the vein of "American Pie"), and start thinking about reinventing her sound.
HOWARD'S STERN
Recently after shedding a little light to the rumors that he may hang up the mic come this November when his CBS contract runs out, Howard went back into character with the much more interesting topic of his "Top Ten Women." The list included such obvious picks as Heather Locklear, Carmen Electra, and Pamela Anderson but threw us for a loop with choices like FAITH HILL, Anna Kournikova [we hear a pretty good (looking) tennis player], his lovely co-host Robin Quivers and his ex-wife Alison Stern. And, of course, we couldn't resist taking part in this frat house stupidity:
? - One of the "Dames" in the band THE TOLEDO SHOW.
"" - Our ex-girlfriend...
Laetitia Casta
Natalie Portman
Janet Jackson
Katie Holmes
Rachel Leigh Cook
Vanessa Marcil
Drew Barrymore
Catherine McCormack
BUZZ ME IN...
TSAR - LA's glam band supreme... Buckcherry's fate redeemed.
PALOALTO - LA is having a battle with the UK as to how many Radiohead clones each can spit out. TRAVIS & MUSE vs. REMY ZERO & PALOALTO... Actually, we shouldn't bag. We like them all.
6/1 @ the Roxy, Hollywood - If there is any place you have to be on 6/1, it's at the Roxy. This lineup is the best club lineup of LA bands we've seen in a long, long time. Not only do you have the afforementioned PALOALTO (new album out on American Recordings; produced by Rick Rubin) but the last time we saw PHANTOM PLANET (good-looking, talented boy rock who will be MTV superstars sooner than they think unless Hollywood Records fucks it up like usual) and RILO KILEY (best unsigned pop/rock band in the universe) together was October 1999 at the Dragonfly, one of the top 10 club shows we saw last year out of around 300. And what about pop/rock princes THE PUSH KINGS? Trust us, trust us, trust us. You should be here.
JURASSIC 5 - Mark your calendars for 6/20. Quality Control finally drops.
Sasha & Digweed - Here they come again. Rest well, everyone, rest well.
NIKKI vs. NICKY vs. ANIKA - NIKKI HASSMAN's on Sony, NICKY LOVE on DreamWorks, ANIKA PARIS on Edel America... and the winner is Hassman by a mile over Paris. And Nicky Love... what was DreamWorks thinking?
Electric Daisy Carnival - Every month we promise ourselves not to go the another big LA massive but how can we pass up this lineup? After this one we promise not to go massive again... well, until JuJuBeats.
Lawrence Fishburne - We just walked by the guy a few hours ago carrying groceries and flowers into our condo complex. Now that's something to buzz about...
Season finale of "Dawson's Creek" - Stop laughing. We met Michelle Williams at a local show just a few months ago and she was way cooler than we thought she would be. The following week, we wanted to see what the big deal was. Now, we finally understand why the show is so popular. Katie Holmes... goodness gracious. "We don't watch TV... except for The WB
100 Girls - Interesting characters, thought-provoking storyline, and ... ok, it's the girls.
WHAT THE F..?!
Jessica Riddle - Key of A Minor (Hollywood) - Flat in more ways than one. One of the 5 worst albums of the year.
Nicky Love - Honey Love (DreamWorks) - Another album in the running for worst of the year. Due tentatively in August but let's hope they keep pushing back this sucker.
Commercial radio - If you didn't think it could get worse, just listen to any STAR...
"Battlefield Earth" - If there is any movie critic that gives this farce a good review never trust that publication ever again.
"Freaks & Geeks" - If there are any network's out there than have any balls, please pick up this show since everyone knows NBC has none.
ON THE TOWN
Thursday, 6/11, we decided to spend some time back in Silverlake to check out IRVING at the Silverlake Lounge. ADEN and TRUE LOVE ALWAYS were also on the bill but Irving was the main reason why we drove our asses all the way down the 10 on a school night. Considering most indie-pop enthusiasts were probably at the MODEST MOUSE show just down the way at the El Rey Theatre, attendance was fair . What can we say about Irving that hasn't already been said? They're nearing a musical plateau that could very well drape them with such well-deserved praise as 'brilliant' or 'transcendent.' You know what? Screw it. We think they ARE brilliant and we think "The Curious Thing About Leather" IS transcendent. Music like this wants us to give up being computer geeks and start a damn rock band. It's inspirational. By the way, if anyone is looking for a guitarist who can sort of sing and also do some turntable tricks, give us a ring.
For the last few weeks, Saturday nights have been bad for us but on 6/3 we were itching for some new music. First, we headed to the Mint to check out Cindy Wasserman and Frank Lee Drennen's new rock outfit DEAD ROCK WEST. The band only started a few months ago but they've definitely got something going with their highly entertaining blend of alt-country, rockabilly, and straight rock/pop. Wait, stop, we know a lot of people are turned off by one or more of those styles of music but you really have to experience it for yourself. You know we don't feed you B.S... this band has got the goods.
Anyway, after our quick stop at the Mint, we headed to Spaceland for the Beyond Baroque Benefit featuring some of LA's best independent experimental bands. We were actually there to see the ferocious 400 BLOWS and the always transcendent SOLID EYE but we were also treated with an ear-opening set from FARFLUNG and ELECTRIC COMPANY. Still, 400 Blows were the band of the night melding simplicity and intensity into a tight set of power metal that included out favorite "Bull That Killed the Matador." For those who have never experienced a show by 400 Blows, we can't really describe it. It's anger come to life. 400 Blows will be doing a free show at Al's Bar in Los Angeles on 6/18 and will tour with AT THE DRIVE-IN in July/August. Click here for more info on 400 Blows.
Wow, we finally have something to write about after a few long weeks sitting at home in front of a computer screen programming websites. Well, as noted, we attended the big 'kid rock' show at the Roxy on 6/1 with PHANTOM PLANET, RILO KILEY, THE PUSH KINGS, and FLUF. Made up of young rockers seemingly just out of high school, the entire lineup still proved to have what it took to pack the venue to its doors. San Diego's Fluf took the stage first, warming up the crowd with their pop/punk stylings. The Push Stars were next, with a solid set of Jackson 5/Motown-flavored rock that had actress Susan May Pratt (Center Stage, Drive Me Crazy) bouncing along to the rhythm (she's apparently good friends with drummer David Benjamin.) Rilo Kiley then took the stage, beginning their set with the anthemic "Always" and then continuing on with crowd favorites "Papillon," "Science Vs. Romance," and "Falling." Although only playing a quick 40 minute set, RK proved once again that they're the best unsigned pop/rock band in Los Angeles. Finally, Phantom Planet, with their all-star lineup that includes lead singer Alex Greenwald (model, actor), bassist Sam Farrar (international model), and drummer Jason Schwartzman (actor), the band had many industry elite giving each other that 'this band has got it' look. Mixing their set with a steady flow of originals and covers (Jackson Browne's "Somebody's Baby," Cyndi Lauper's "Good Enough," and Blur's "Song #2"), the celebrity-filled crowd was theirs for the taking. As they came back on stage after the Roxy security turned on the house lights at the conclusion of their set, they finished off the night with a riotous (well, as riotous as pretty boys can get) version of of The Beastie Boys' "Sabotage." Talia Shire, Devon Sawa, Selma Blair, Paul Walker, Blaine Capatch, Danielle Fishel, Tobey Maguire, and Wynona Ryder were just some of the many that gathered at the Roxy.
Gaining respect from pop purists and teeny-bop fanatics alike, Phantom Planet is a talented group of musicians that can write the kind of songs that some of their elder pop contemporaries simply can't write. Plus the band is undeniably likeable. They're fun to watch and they're talent makes them hard to not like. Watch out for a Phantom Planet record out on their new label Epic Records later this year...
CD REVIEW

By William K. Lee
Harvard Crimson
Harvard U.
(U-WIRE) CAMBRIDGE, Mass. -- Essential Selection Vol. One is the latest compilation album from Britain's most popular dance music radio shows, but the first to receive an American release. And the debut is a colossal effort: over 150 minutes of dance mix featuring the mixing skills of two of the industry's most popular DJs, Fatboy Slim and Paul Oakenfold.
The album's first disc features the Fatboy Slim mix. True to the big beat sound, the disc kicks off with Walter Wanderley's organ tune "Summer Samba." Laid over that kitschy melody is the weirdest breakbeat you'll ever hear, something like a mixture of a saw and a mattress spring. Fatboy Slim's mix features remixes of songs by famous artists like the Chemical Brothers ("The Private Psychedelic Reel"), Underworld ("Born Slippy") and Art of Noise ("Metaforce"), but to buy the album just for these would be a terrible mistake. To appreciate the mix, you really need to hear it from beginning to end: the way the songs blend into one another is a journey into the fun and eclectic mind of Norman Cook. The mix is unpredictable, always swinging between styles, from hardcore techno to funky soul. And it always gets your ass shaking.
The Paul Oakenfold mix starts off rather moodily with four intense trance tracks, but becomes more danceable as Oakenfold gets into a house groove. Throughout, Oakenfold's mix remains an emotional one, with the high point being his interpolation of Barber's classical piece "Adagio for Strings."
Above all, Fatboy Slim's big beat and Oakenfold's trance and house mixes complement each other well. Whether you're looking for a solid party mix or something more intense, Essential Selection lives up to its name.
(C) 2000 Harvard Crimson via U-WIRE

Lou Reed
Sleater-Kinney
Elliott Smith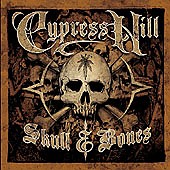 Cypress Hill - Skull & Bones (Columbia)
Order this CD