HAPPY BIRTHDAY!!
Clear your calendar for May 31st. You and a friend are going to see THE CURE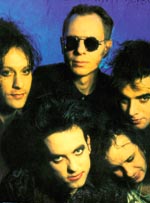 at the Greek Theatre courtesy of your friends here at SHOWDATES.

Wait, that's not all! As an added bonus for being a birthday boy on May 13th, you're also going to see PHANTOM PLANET, RILO KILEY, THE PUSH KINGS, and PALO ALTO at the Roxy in Hollywood on June 1st. Congratulations!

Happy Birthday from SHOWDATES - The West Coast's resource for music news and concert information.
COMING SOON

My birthday and many other birthdays... stay tuned!

Do you have an update for Online Events? Click Here.